Jay Leno and Mavis Leno's love story started at a comedy club.
The former Tonight Show host met his wife after he performed at the iconic Comedy Store in the '70s. Jay admittedly "wasn't very good at dating" and Mavis didn't think she would ever walk down the aisle. However, that all changed when the pair met.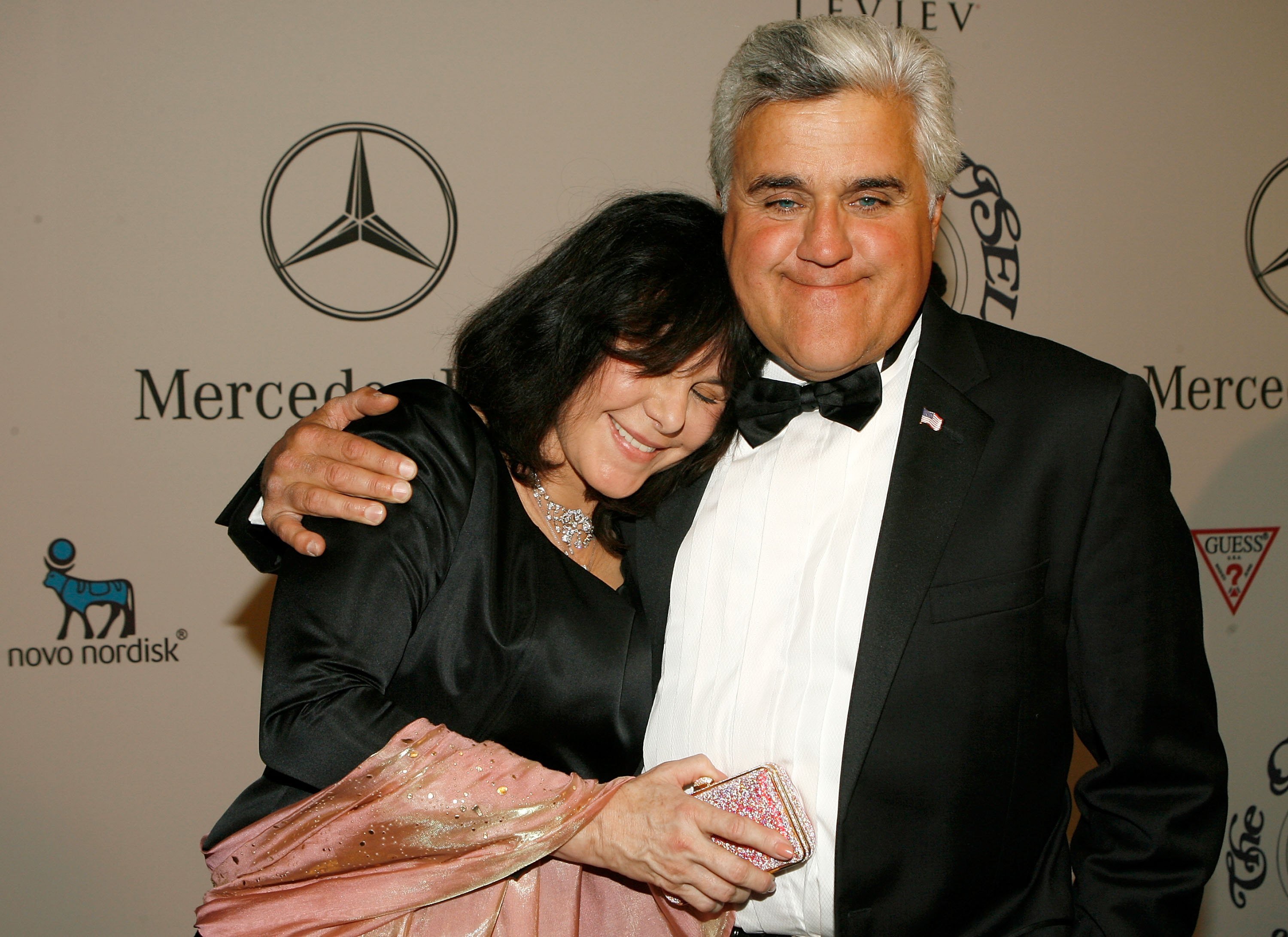 "I always had this idea that I would never get married," Mavis told PEOPLE in 1987. "But with Jay, I began to realize that this was the first time I was ever with someone where I had a perfect, calm sense of having arrived at my destination."
The couple tied the knot in 1980. Discussing the secret to their long-lasting marriage, Jay joked on PeopleTV, "Not screwing around is a huge key. You can do a lot. You can leave your underwear on the doorknob for the rest of your life if you don't screw around."
All jokes aside, Jay shared, "I always tell guys when they meet a woman, 'Marry your conscience. Marry someone who's the person you wish you could be and it works out okay.' "
In November 2022, Jay suffered severe burns to his face, chest and hand in a gasoline fire that broke out while he was working on a car in his garage. The TV host was rushed to the hospital and, according to his doctor, Mavis was "by his side" the entire time.
"[She is] obviously very concerned," Dr. Peter Grossman said during a press conference following the accident. "They have a very close relationship, and she's doing as well as you can expect a wife who is concerned about her husband."
She met Jay at a comedy club
Mavis met her future husband at the Comedy Store, the famous comedy club in Los Angeles.
"It was in January — I don't remember the day. But at the time I thought, 'Holy s—! That comedian is gorgeous!' " she recalled in an interview with the Los Angeles Times. "I had gone to the Comedy Store with my girlfriend because I was writing comedy with some partners. Friends kept saying, 'You have to hang out at the Comedy Store and the Improv. You'll meet people who can give you jobs.' The first time I went, they sat us front row center — that means you're this far from the comic. And there was Jay."
The pair's meet-cute happened after Jay's act. "I needed to go to the ladies' room. What I didn't know was in the Comedy Store back then, that area was the only place for the comedians to hang out," she recalled. "So when I came out of the bathroom, he said, 'Are you that girl in front?' And I said, 'Yes, that was me.' "
Jay once purchased her a blouse instead of a drink
Because Jay doesn't drink, he once decided to give Mavis drink money to go shopping instead.
"I wasn't very good at dating," he told PEOPLE. "I don't drink. I never have. I remember once Mavis wanted a drink, and I said, 'Look, let me give you the money, and you can buy a blouse or something. I don't want to buy you a drink.' And so I gave her $35 and she bought a blouse."
Mavis admitted that she thought that was "absolutely peculiar."
Relationship FAQs
She was born on September 5

Jay proposed without an engagement ring

The first years of The Tonight Show were hard for her

She is a board member of the Feminist Majority Foundation

She did not want to have children

She married Jay on a special date