If you know anything about TikTok, you know that the former "It" couple on the platform was Dixie D'Amelio and Noah Beck. The sweet couple have been dated for nearly two years after quickly becoming a fan favorite when they confirmed their relationship back in October 2020.
Since then, they have remained in the public eye while gushing over their love for one another on social media — just until recently. In the start of 2022, fans noticed a dip in posts from both Dixie and Noah showcasing their romance, and the two have started to speak about keeping their relationship more private. News of their breakup came in November 2022 when Noah's publicist confirmed to The New York Times that they were "no longer together but remain close friends."
Noah told Hollywood Fix in October 2020 that they initially planned "to stay private," at the start of their relationship for Dixie's sake. And in November 2020, Dixie explained in a 2 Chix podcast episode that she was afraid to confirm the couple was together after reading fans' comments under posts of them hanging out together.
"They would be like, 'Dixie doesn't show him this much attention.' I'm like, 'Well, I just wasn't ready.' So, it kind of took me a minute to get into online relationship mode and like I'm ready to show how I feel about someone," she explained on the podcast.
But since then, Dixie has changed her tune, and the iconic Tiktok couple have posted pictures and videos of one another on all forms of social media. On her appearance at The Early Late Night Show, Dixie spoke about her boyfriend's sweet side. "He's very romantic and kind of caused me to be a little more romantic, which wasn't usually like me, so it's really nice getting to open up," she said.
But there are downsides to having such a public romance. In February 2022, the two TikTok stars stirred up breakup rumors after a grainy Twitter video of Dixie and her ex-boyfriend Griffin Johnson at a party went around the internet. A friend of Noah's who was at the same party stated it was nothing more than a brief conversation.
That didn't stop fans from freaking out over their favorite internet couple though, and finally, Noah had no choice but to take to Twitter. "You know I love you guys more than anything, but let's stop jumping to conclusions, OK? It's not [fair] to anyone." he tweeted, squashing the breakup rumors at the time.
Recommended: Jay Leno appears on 'Today' for first TV interview since injury: 'My face caught on fire'
October 2020
Soon after they confirmed their relationship in October 2020, Noah told Hollywood Fix on October 6 that the couple originally wanted to stay private.
September 2020
Dixie explained in a Podcast episode with 2 Chix that she was afraid to confirm their public relationship after reading fans comments under posts of them hanging out together.
April 2021
Dixie gave viewers some insight on her relationship with Noah at The Early Late Night Show, where she clarified some drama about her lie detector test Youtube video posted in December 2020. The internet star received hate at the time after she reluctantly answered a question about whether or not she would want to marry Noah.
August 2022
"As we've said like a million times, we've decided to take our relationship off social media," Dixie explained to People Magazine at the 2022 VMAs, adding that the decision is "better for our mental health."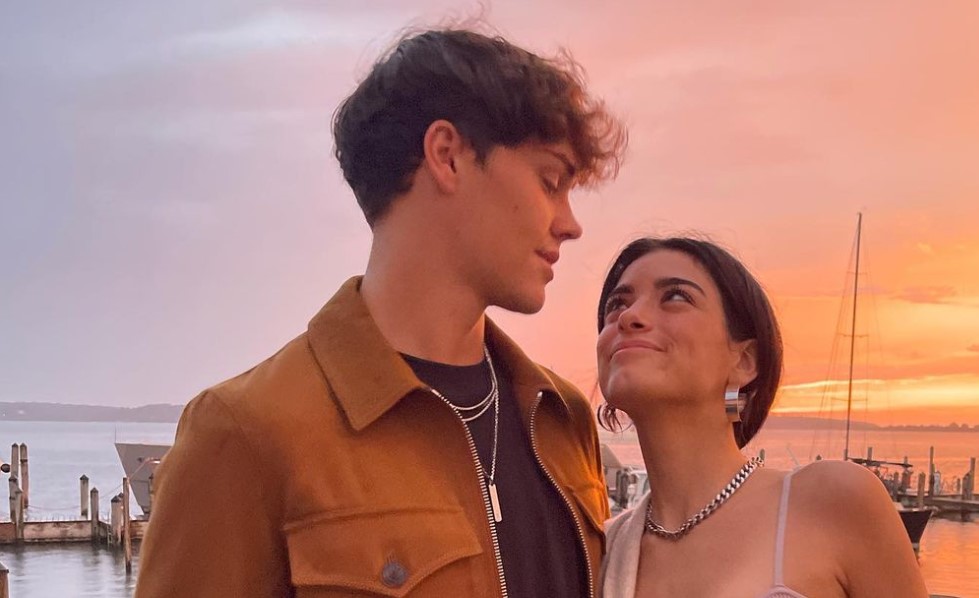 September 2022
In the newest trailer for season two of Hulu's The D'Amelio Show, the couple addressed their relationship status.  "People who follow us," Dixie says, "think they have a right to know everything that's going on in our lives."
Recommended: Mike Youngquist and Natalie Mordovtseva Have Split, But Their Journey Continues To Unfold In Front Of Fans.
October 2022
While it's unclear if Noah and Dixie are truly broken up, Noah's "Put a Sock in It" podcast cohost, Larri "Larray" Merritt, seemingly revealed that Noah is living the "single life," during an October 2022 episode of their show.
"I mean what are your thoughts on dating? How do you feel?" Larry asked. "I mean isn't it public now?"
Noah replied, "I don't even know. I'm living alone right now. I got a new place by myself. I too feel like I'm content at home, sometimes."